TRADE TEMPLATE
NEW TEAM:
PLAYER > CONTRACT/REWORKED > RFA/UFA STATUS
IF Prior Team paying part of player Contract post as follows
PRIOR TEAM
PLAYER > CONTRACT PAYMENT

I wanted to give you my take on the 2014 New York Subway Rats. The off-season started with the 2nd biggest decision in the 3-year history of the New York Franchise, to match, or not to match Demaryius Thomas. I crashed and burned on the first one... Even though I have a ton of money, I did not want to lock up Thomas for 5 years at $20. He is a top 3 receiver, but I am convinced I can make my roster work without his presence.
Quarterbacks:
Russell Wilson will be the starting QB in New York this season. The decision to go with Wilson was greatly influenced by he health of Tony Romo, and the offer for Tony Romo. I felt a future 1st, 2nd, and 3rd pick, and a bad back, created a strong reason to trade Romo and go with Wilson. Wilson may not be the passer that Romo is, but his running ability will keep his numbers consistent. Alex Smith was claimed off waivers with the idea that he will only play during Wilson's bye week. Lets hope that is the case.
Wide Receivers:
Each of my wide receivers has Quarterback issues that will keep me on the edge of my seat all season. Andre Johnson had a great season last year despite poor performances by Houston Quarterbacks, and the lack of a running game to draw attention of the defense. Torrey Smith was in the same situation in Baltimore, but failed to put up the numbers he posted in prior seasons. Terrance Williams should build on a strong rookie season. The exit of Miles Austin should allow Williams to take sole possession of the 2nd receiver spot in Dallas. This will mean very little if Romo is not healthy and Williams is looking for passes from Brandon Weeden. Eric Decker followed the money this off-season. He goes from the best Quarterback in 2013-14, one of the worst this season. Decker should receive the majority of the targets from Geno, so he is a strong gamble. Cody Latimer joins New York after the disappointment of not being drafted. I almost took him in the 3rd round, but wanted to fill a defensive spot. I am just going to dream that he is Eric Decker's replacement.
Running Backs:
I am very comfortable with my running back situation heading into the season. Giovani Bernard and Andre Ellington both put up great numbers sharing the carries for the respective teams last season. Both are tagged to be the #1 options this year, and it should be exciting to watch. Both are very small, but are greatly involved in the passing game. I drafted Jeremy Hill and traded for Stepfan Taylor as insurance for Bernard and Ellington. Hill looked strong in his pre-season game, which I guess means he will be a stud, see Andre Williams  

 . (Just kidding D). Bernard Pierce will have a great opportunity to challenge for starting spot for the Ravens in the first two weeks of the season. The suspension to the P.O.S., leaves the door open for Pierce. This brings me to my last running back. Remember the crash and burn? His name is Trent Richardson. Richardson had a great rookie season, but absolutely stunk last year. He will finish his contract in New York, but I can name a handful of better picks if I had a mulligan.
Tight Ends:
As a Dallas Cowboys fan, I think Jason Witten is an absolute beast. I think the exit of Miles Austin will also have a positive effect on Witten. One less receiver wanting the ball is good news for me. A good season by Witten will not guarantee him the starting TE position. Jordan Reed seems to be showing up on quite a few sleeper lists this off-season. Reed has the potential to get a lot of looks if he stays on the field. 
Kickers:
Bailey and Tucker are good.
Defense:
Chicago is not good.
Defensive Backs:
Eric Berry and Johnathan Cyprien are as good a combination as you will find in VSF. They both get a lot of tackles and are very consistent. Calvin Prior hurt his head.
DL:
Muhammad Wilkerson is a stud on the Jets, but Star Lotulelei makes me wish I picked a guy whose name was easier to spell.
Linebackers:
Lavonte David has been a stud in New York since year 1. Its a shame that it took me two years to realize his names wasnt David Lavonte. Paul Posluszny has a difficult last name. He is good, so I will try to learn to spell it. Mason Foster will be used twice. If more that twice, something went very wrong.
Thanks to the guys who took time to make their posts! You put in a lot of effort, so I wanted to try to come up with something half as insightful as your posts.

ericdm70

Premium Member






_________________

HELLFISH

Premium Member






Good read! Andre Williams be strong like bull

Lol
_________________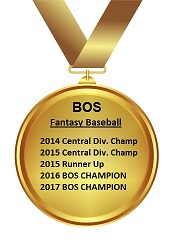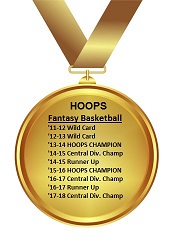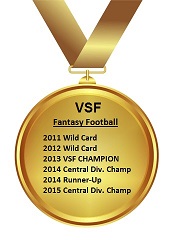 DmanofGod1

Premium Member






Jeremy Hill! 3rd String Beast!

_________________
2018 - B.O.S. CHAMPION
2018 - B.O.S. MANAGER OF THE YEAR

OWNER OF 4 OF THE TOP 10 MLB PROSPECTS

ericdm70

Premium Member








Similar topics
---
Permissions in this forum:
You
cannot
reply to topics in this forum